Wednesday, June 25, 2008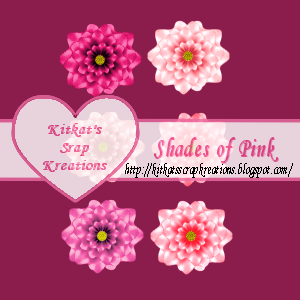 Here's my first share. Shades of Pink Flowers. I hope someone likes them and is able to use them.
Please follow my terms of use include in the zip file.
There are 6 flowers in the download. They are in psd format.
Please Click
here
to download it.

I would appreciate a little comment if you download this item. Thank you

5 comments:
Hi KitKat,
I know you don't like to talk about yourself but you've been tagged. Please see my blog for the rules (lol)
Hugs your way,
TammyJo *TJ*
Thank you! Your blog post will be advertised on the DigiFree Digital Scrapbooking Freebie search engine today (look for timestamp: 01 Jul [LA 03:33am, NY 05:33am, UK 10:33am, OZ 08:33pm]).
Hugssssssss KitKat ,

Well another one bites the dust- you try to do the right thing and get kicked in the teeth again. Enough of that though- I will let God handle it . I'm not that strong.

I have a blog award on my blog for you- please stop by and pick it up when you get a chance.
Hugs your way ~ TammyJo *TJ*
hi kitkat,

Thanks for the note in my chat blog and you're welcome :) Love your first freebie, very pretty flowers. Just a thought though, you'll get more downloads if it's saved in .png format rather than just .psd as a lot of people are unable to open photoshop files in the graphics program that they use. Great start to your blog :) :)

Shawna
Hey Kat!
I didn't know you did scrap also!!
I have bookmarked you :-)
Hugz
~melissa
Post a Comment